Try it Now
Test Drive the Leading Data-Centric Security Platform
Transform your data security to find sensitive data, reduce risk and take action to minimize your attack surface, achieve compliance, and improve data protection.
Talk to one of our data-centric security specialists 👇 and check out what we put together for you below.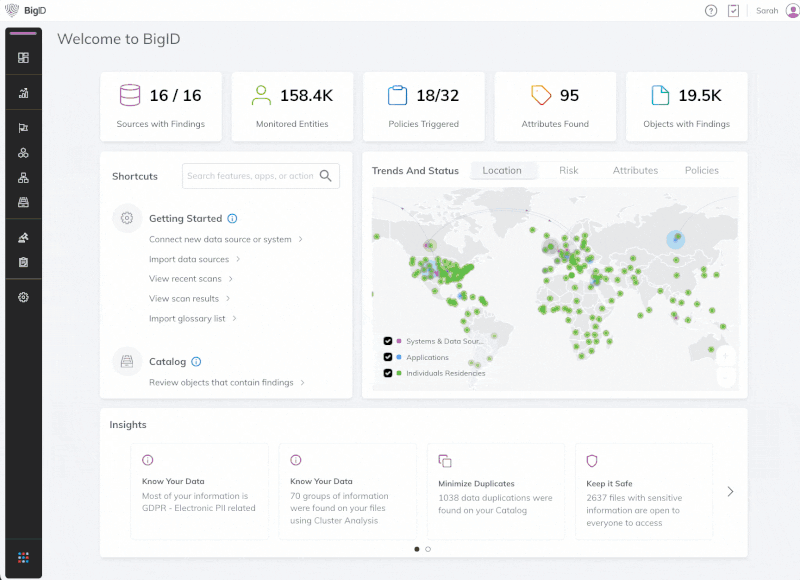 Recognized as the #1 industry-leading data security and privacy solution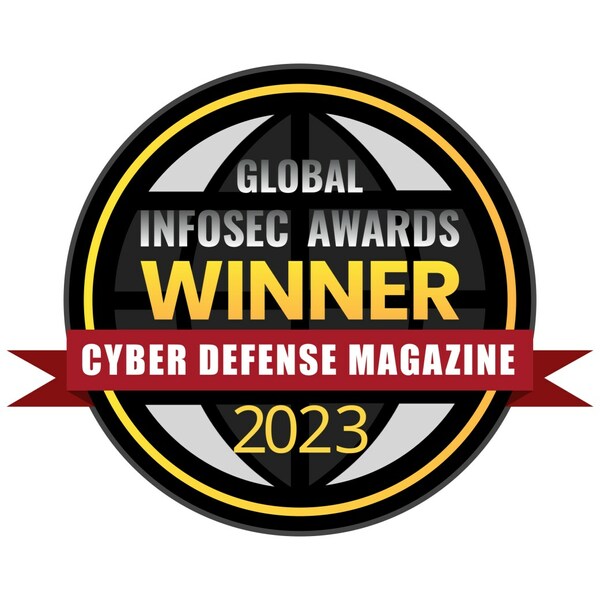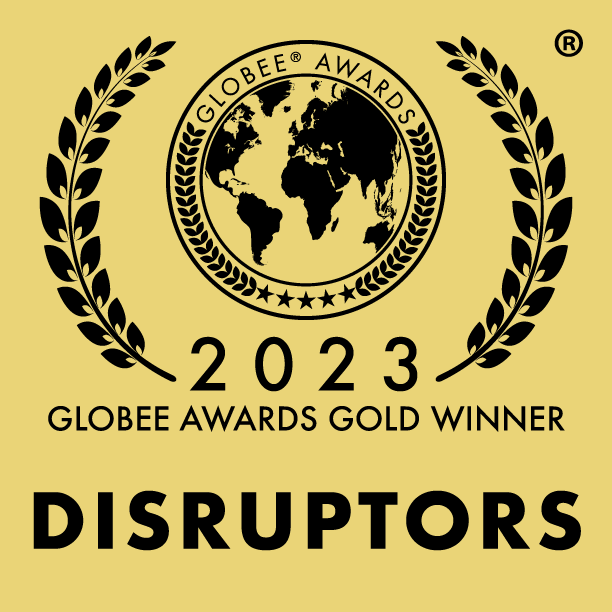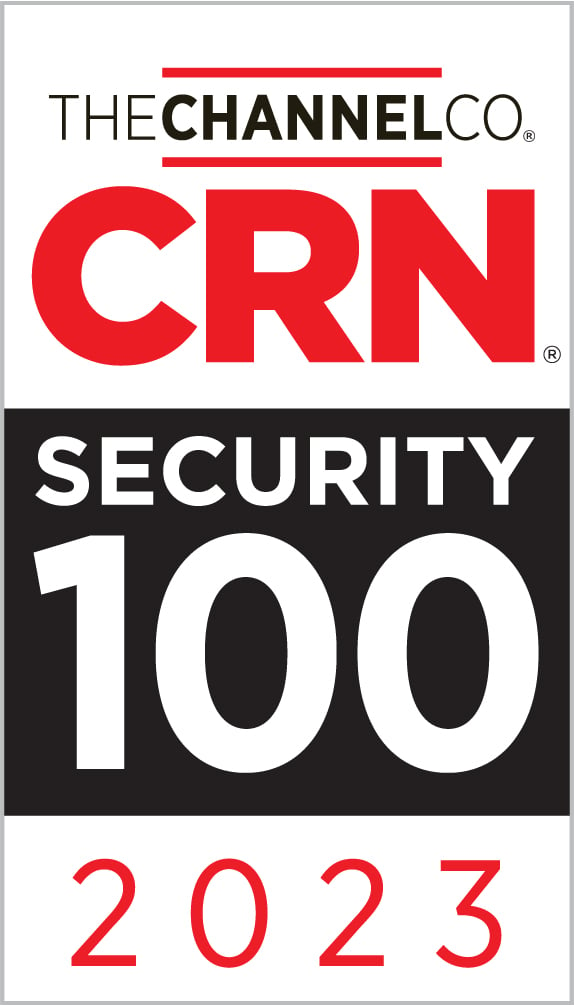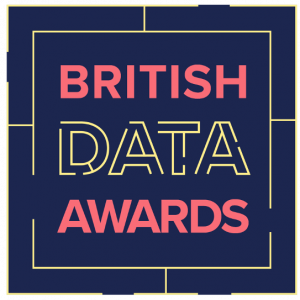 POWERFUL FEATURES
5 Reasons Why You Should Choose BigID
Coverage
Support for 100's of data sources and types - unstructured or structured, on-prem or across the cloud. Accelerate insights and eliminate blind spots with Auto-Discovery.
Classification
Combines regular expression (RegEx) with advanced, AI and ML-based techniques to classify more data types, more accurately, at scale. Deploy hundreds of OOB classifiers. Build your tailored composite classifiers. Train your own NLP and deep learning classification models. Leverage exact value matching using correlation for critical data.
Risk Management
Extend data security and risk management from discovery through remediation. Take action on your data and streamline remediation. Automatically label, tag, retain, discard, encrypt, mask, and move risky and unnecessary data to reduce exposure.
Integrations
Open and API-first platform that integrates with and enriches the existing security stack. Seamlessly coordinate security and risk remediation workflows across the right tools. Our partners include ServiceNow, Palo Alto Networks, Splunk, Snowflake, Microsoft, Google, AWS, and more.
Enterprise-Grade
Choose how to deploy BigID: SaaS, self-managed, or hybrid. We use top-tier security including password vault, RBAC, and step-up authentication. Customize scans with features like API triggers, blackout periods, and iterative scans.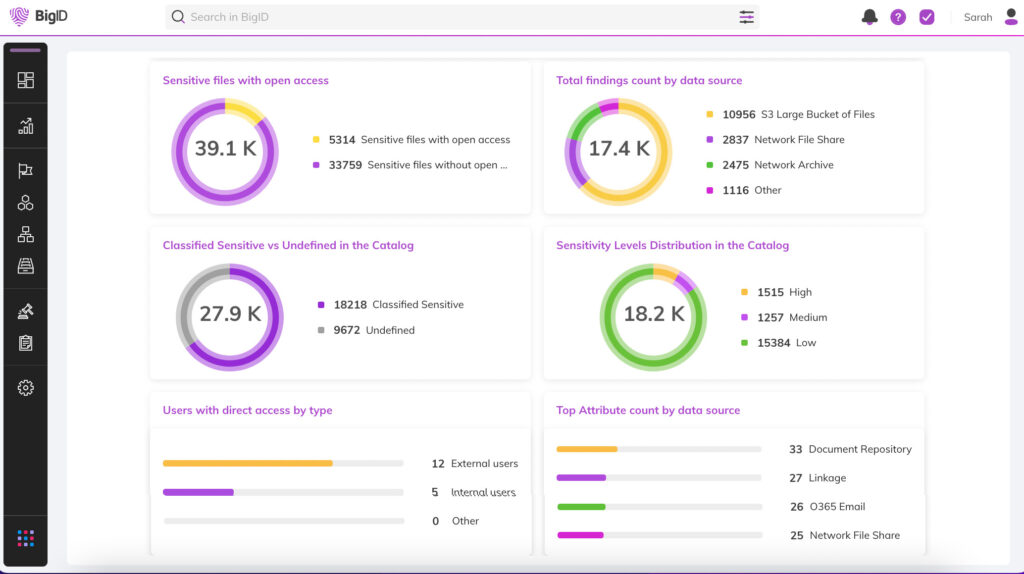 Shine a Light on Dark Data
Automatically find and inventory your most sensitive, critical, and high priority data - wherever it lives.
Get unmatched data discovery and classification to find the data that matters most to you: whether it's critical, regulated, personal, secrets, passwords, IP, financial, or more. Get more accurate results every time with ML-driven data classification - across your entire data landscape (from on-prem to cloud to everywhere in between).
Jumpstart DSPM
Data Security Posture Management for the Multicloud and beyond
Accelerate DSPM: manage risk across the multicloud with a data-centric approach. Automatically map, monitor, and remediate data – with the first platform based on ML-driven in depth data discovery and automation.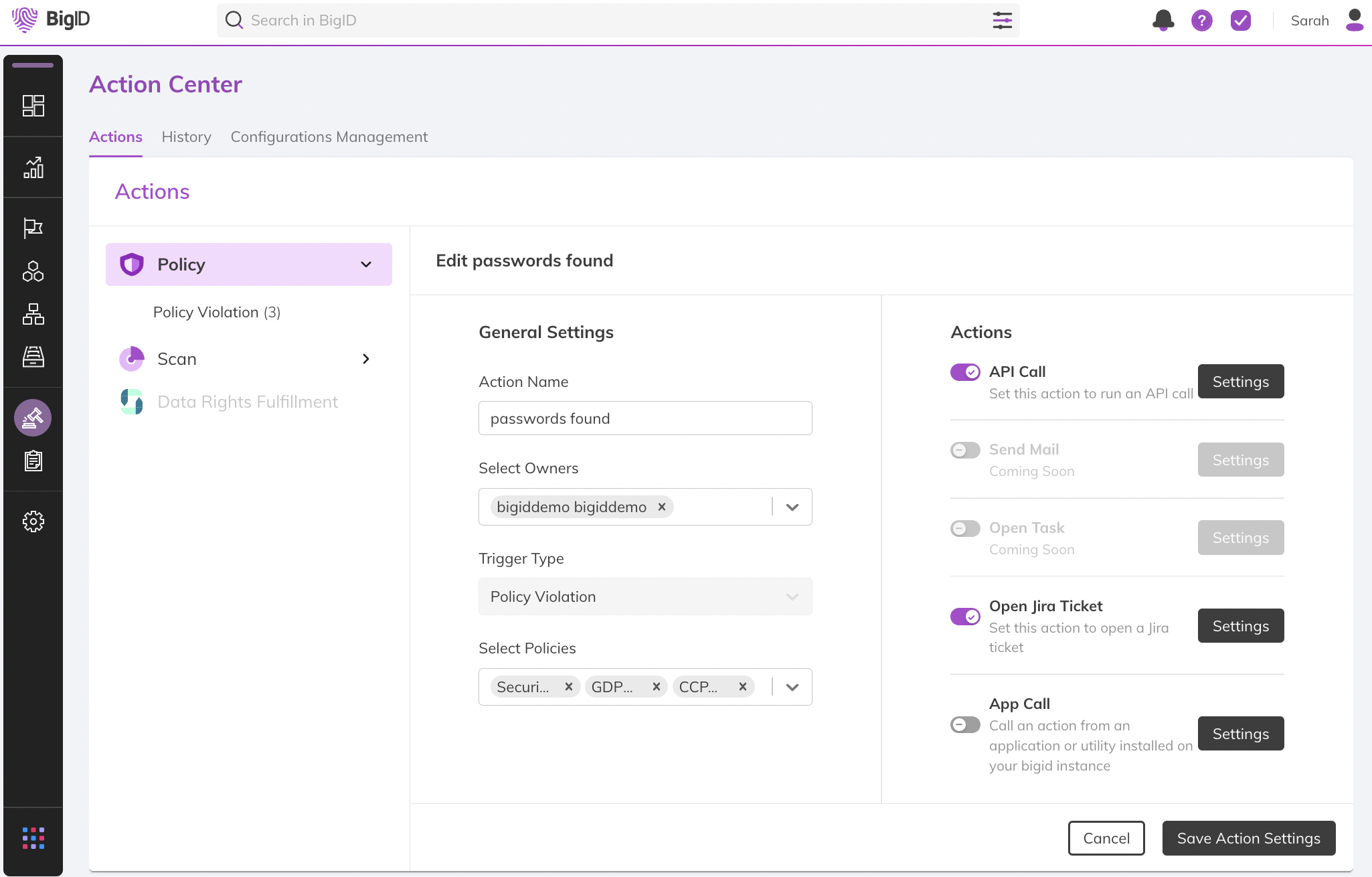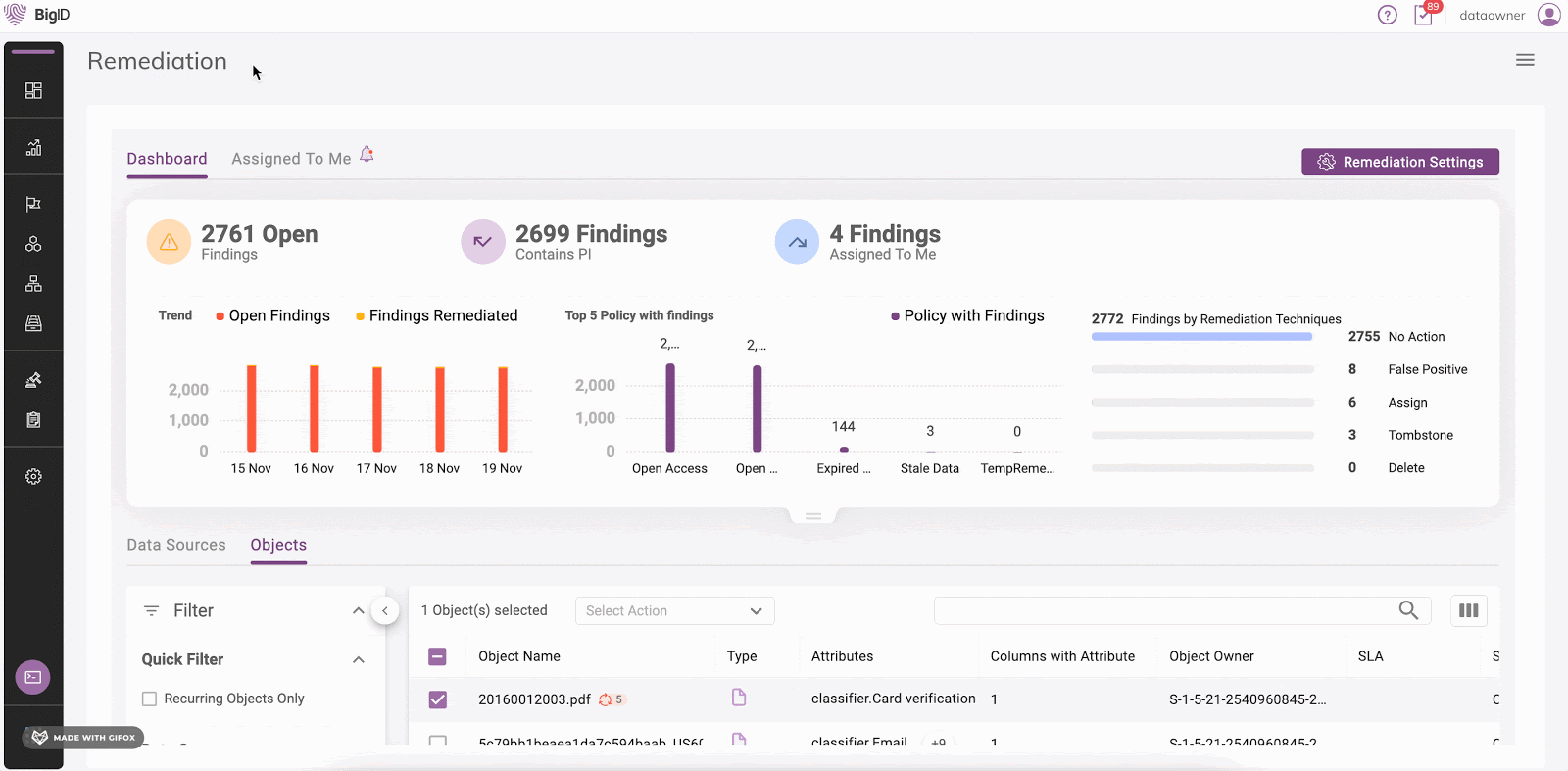 Take Action on the Data that Matters Most
Remediate high-risk, sensitive, & critical data, everywhere.
Make it easier than ever for the right people to take the right actions, on the right data. Annotate, delete, quarantine, and more based on the data itself - all while maintaining an audit trail.
Enable Zero Trust for Data
Identify & remediate high-risk data access issues.
Easily find over-permissioned and over-exposed data across your entire data landscape: mitigate unauthorized use, reduce the risk of data leaks or breaches., and get to a least privileged permissions model for zero trust.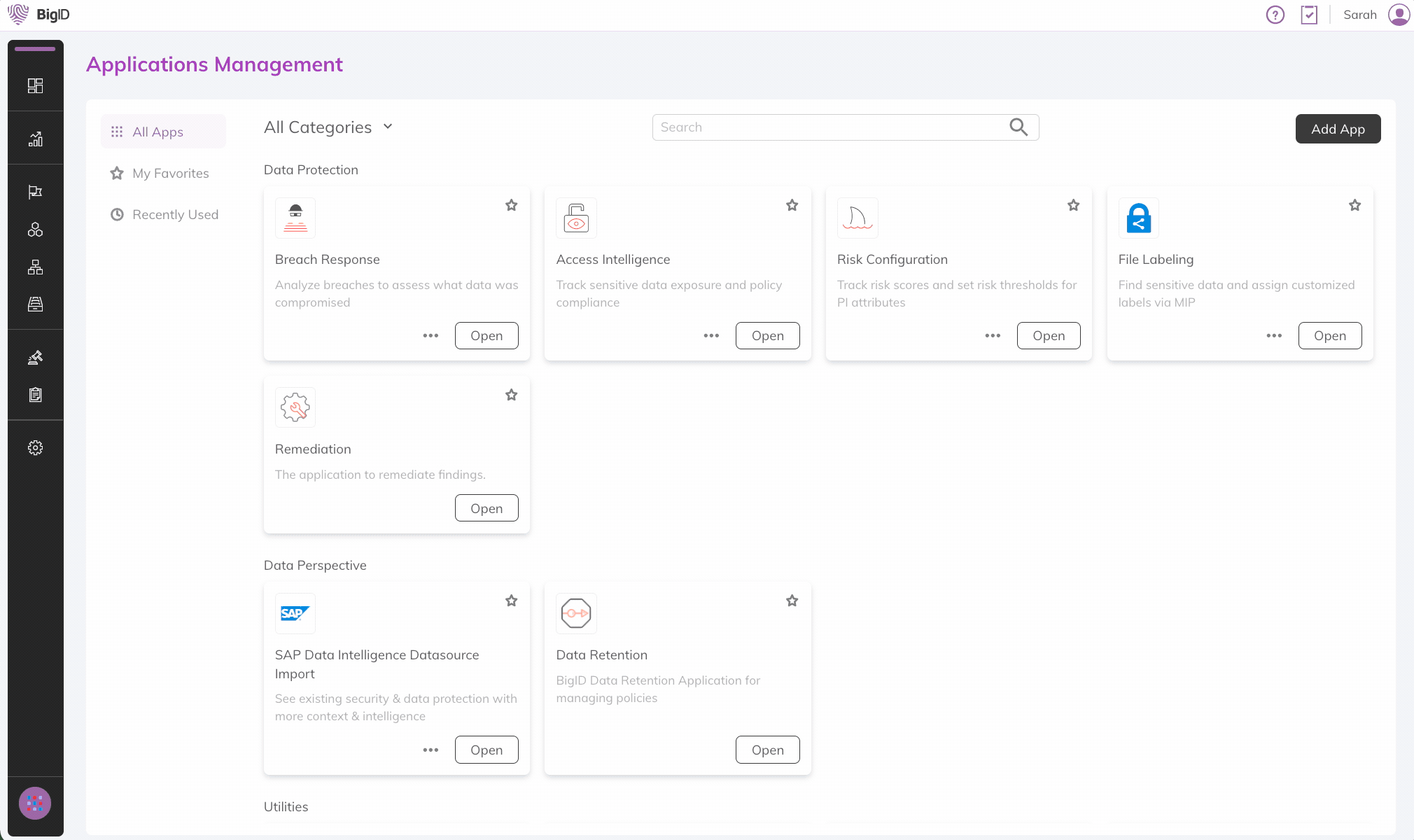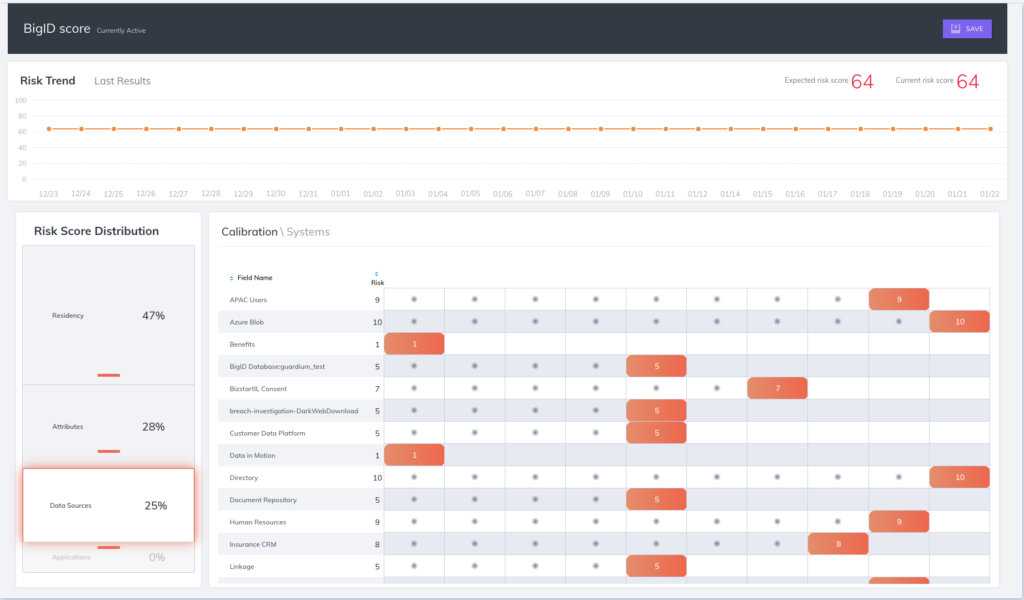 Customize Risk Scoring
Not all data is the same - define your crown jewel data to prioritize risk.
Define and monitor risk according to your sensitive or critical data - based on your own definitions and parameters. Automatically flag high-risk data and prioritize the most critical issues.
Simplify Incident Response
Determine breach impact & streamline incident response.
Assess the scope of a breach, identify impacted users and determine appropriate response plans. Comply with breach reporting requirements to minimize financial, legal, and brand impact.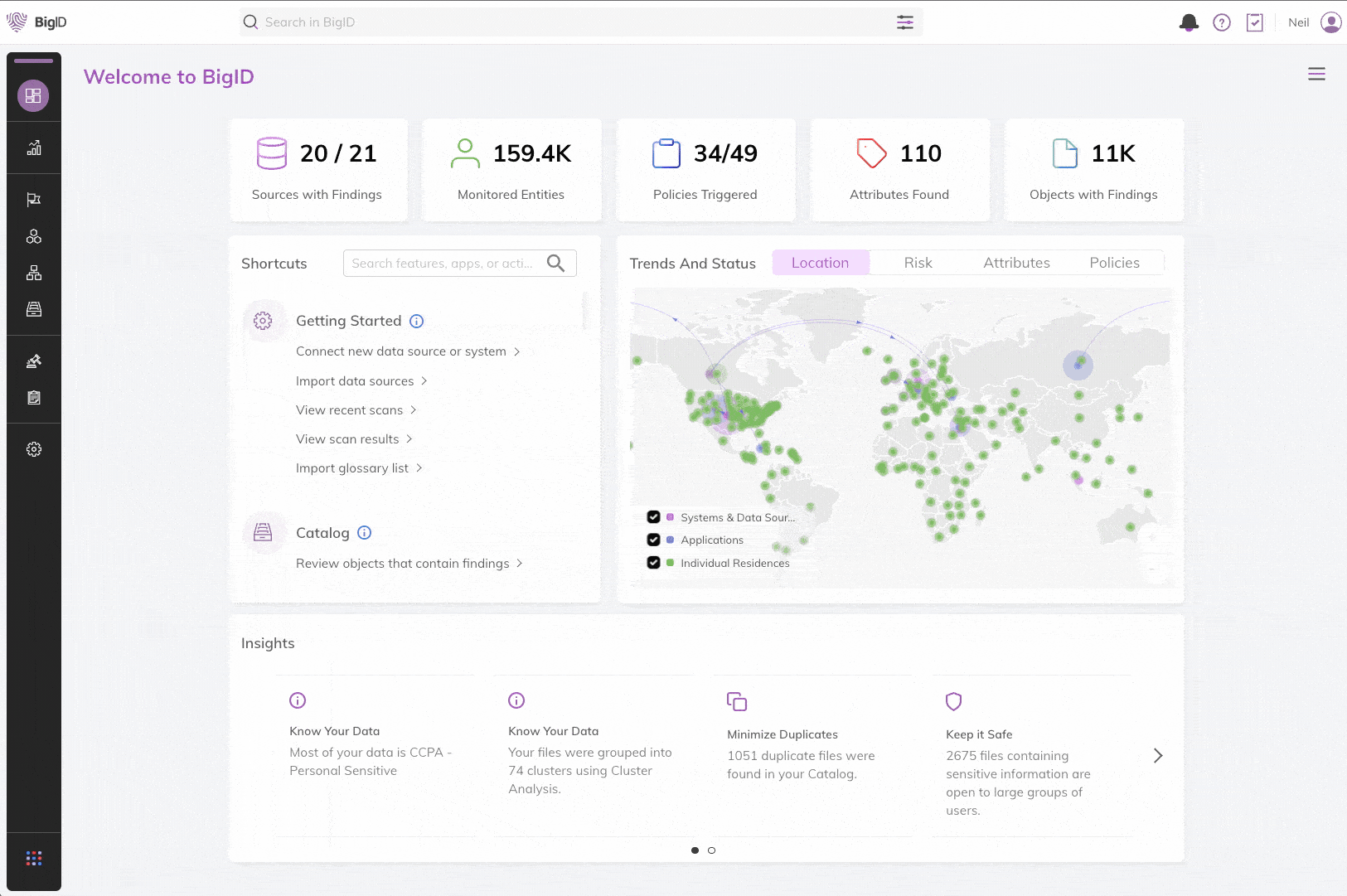 Accelerate DLP
Enforce data loss protection with extended flags, tags, and data labelling.
Use ML-based classification to label data according to its sensitivity, criticality, and more. Enrich native data protection like MIP and GCP, and make more intelligent enforcement decisions based on granular data understanding.
Shift Left
Shift left with programmatic data discovery and classification. Build your own apps, and easily operationalize and customize APIs and SDKs for Developers.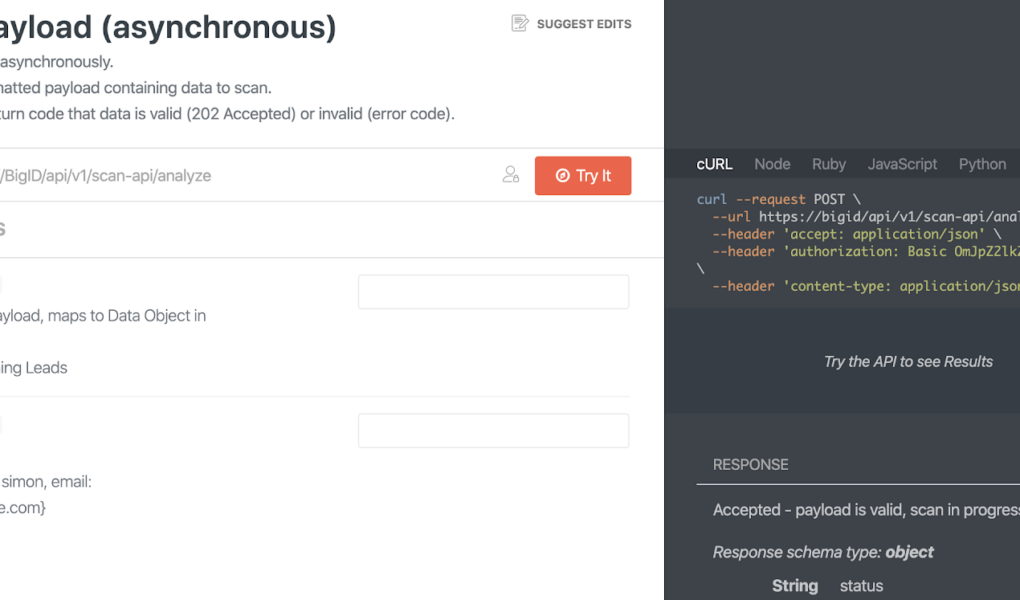 BigID is a Market Leader in Data Security Posture Management (DSPM)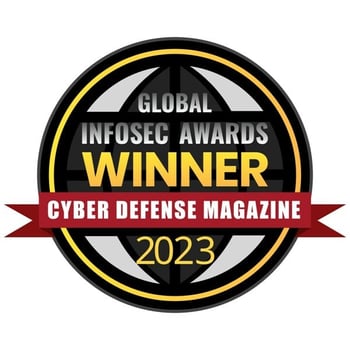 "BigID embodies three major features we judges look for to become winners: understanding tomorrow's threats, today, providing a cost-effective solution, and innovating in unexpected ways that can help mitigate cyber risk and get one step ahead of the next breach."
How will onboarding work?
BigID is agentless, resource-friendly, and super easy to set up. Day one, we seamlessly connect to and scan virtually any data source you can think of.
What happens to my existing custom classifiers?
No sweat. We can help migrate existing custom or specific classification requirements over. We've got 100s of OOB classifiers to match your needs, along with custom classifiers that are easily tunable and trainable.
Will there be training and assistance?
We understand that new solutions can be daunting but fear not. BigID is simple and intuitive. Our team of data security experts has your back. Plus, we created BigID University to help you accelerate time-to-value. Let's get you going!
Talk to a BigID Security specialist today