Start For Free
Learn more about BigID Pricing
Our pricing model depends on a few factors specific to your team and data, so we'll need to get in touch to give you accurate pricing info. Fill out the form below to get started. 👇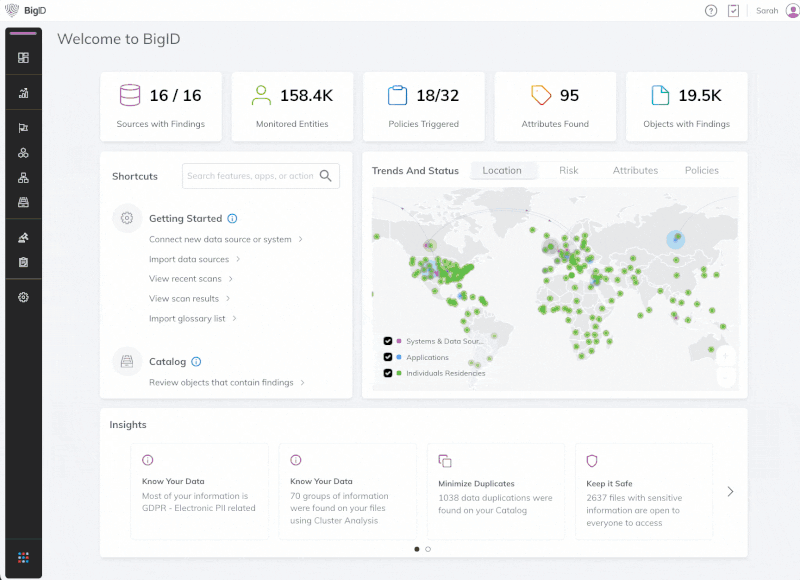 How does BigID pricing work?
BigID pricing is based on a combination of factors, including number of data sources, apps, and connectors, deployment type, and level of services and support.
What's included in the discovery foundation?
The BigID Discovery-in-Depth Foundation gives you visibility into all of your data, no matter where it lives. You'll be able to:
Automatically identify & find sensitive, critical, personal, regulated data
Find duplicate, similar, and ROT data everywhere across your environment
Connect related and inferred data points into a single identity or entity
ML-augmented metadata collection, search, and labelling at petabyte scale
What apps are featured in each bundle?
Security Bundles
Zero Trust bundle (Access Intelligence + Remediation)
Insider Threat bundle (Access Intelligence + Remediation + Retention)
Data Minimization bundle (Remediation + Deletion)
DSPM bundle (Risk + Remediation + Access Intelligence)
Data Lifecycle Management bundle (Remediation + Retention + Deletion)
Privacy Bundles
Data Rights bundle (DSAR + Deletion)
Preferences bundle (Privacy Portal + Cookies)
Data Mapping bundle (RoPA & PIA)
Can I try it out first?
Definitely. Fill out the form above to get started with a free trial.
WEBINAR
How MARS, Inc Uses a Global Benchmark Strategy to Streamline Privacy Rights with BigID
WATCH NOW
Get started with BigID pricing